Our Physicians

Akshay S. Thomas, M.D., MS
Akshay S. Thomas, M.D.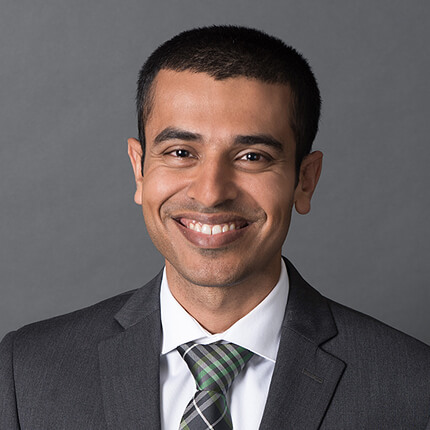 Dr. Akshay S. Thomas brings expertise in Uveitis and Ocular Inflammatory Diseases to Tennessee Retina. Dr. Thomas completed medical school at Case Western Reserve University, where he was elected into Alpha Omega Alpha and received the Alfred Maschke Award for Excellence in the Art and Practice of Medicine. Following his ophthalmology residency at the Casey Eye Institute of the Oregon Health & Science University, Dr. Thomas completed a two-year fellowship in Medical and Surgical Retina at Duke University, where he was named the Hornaday Fellow for Excellence in Ethics, Clinical Care and Research and was the recipient of the Ronald G. Michels Fellowship Award, the highest honor that can be given to an American senior vitreoretinal surgery fellow. Dr. Thomas then completed a second fellowship in Uveitis and Clinical Ocular Immunology at the Casey Eye Institute.
Dr. Thomas has authored or co-authored over 40 scientific papers and book chapters related to uveitis, medical retina and surgical retina. He has co-edited a textbook on retinal diseases and is currently co-editing a textbook on vitreoretinal surgery. Dr. Thomas has presented at numerous national and international meetings. His research interests include the development of clinical trial endpoints in uveitis, multimodal retinal imaging, and surgical techniques and instrumentation.
Dr. Thomas has a particular interest in the medical and surgical management of adult and pediatric patients with all forms of ocular inflammatory diseases; including all forms of uveitis, scleritis, and orbital inflammation. He has therapeutic expertise in the use of local and systemic steroids, surgically placed steroid implants, and the administration of systemic immunosuppressive medications. Dr. Thomas's clinical interests and expertise also include macular degeneration, diabetic retinopathy, retinal vascular diseases, and complex retinal detachment.
In their free time, Dr. Thomas and his wife enjoy cooking, traveling and spending time with their two hyperactive dogs.
Dr. Thomas sees patients in our Nashville, Bowling Green, Franklin, Clarksville, Cookeville, and Crossville offices.
Undergraduate Education
B.S. in Health Sciences
Purdue University
West Lafayette, IN

Medical School
M.D./M.S.
Case Western University
Cleveland, OH

Internship
Transitional Program
Aurora St. Luke's Medical Center
Milwaukee, WI

Residency
Ophthalmology
Casey Eye Institute
Oregon Health & Science University
Portland, OR

Clinical Fellowship
Vitreoretinal Surgery
Duke University Eye Center
Durham, NC

Uveitis and Clinical Ocular Immunology
Casey Eye Institute
Oregon Health & Science University
Portland, OR

American Academy of Ophthalmology
American Society of Retina Specialists
American Uveitis Society
Alpha Omega Alpha Honor Medical Society